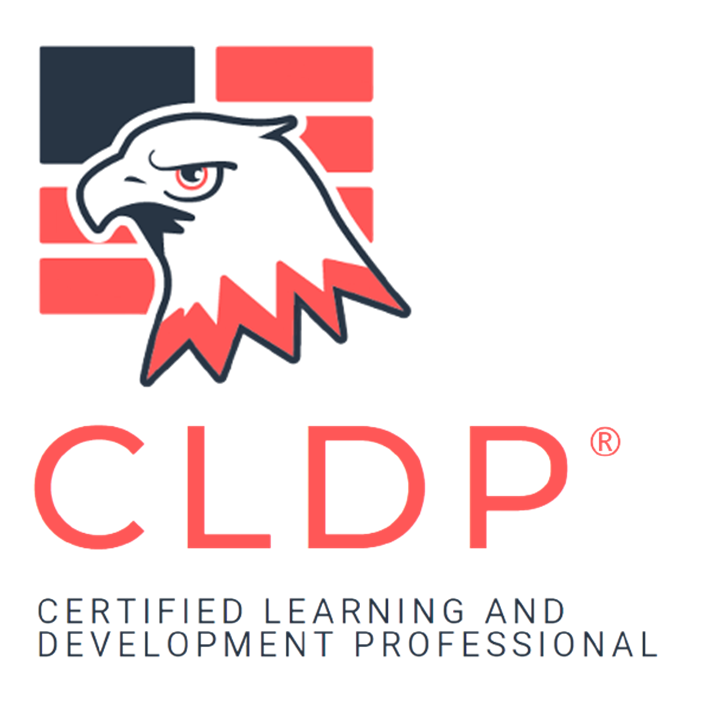 Becoming a CLDP®
Certified Learning and Development Professionals aim to improve group and individual performance by increasing and honing skills and knowledge. CLDPs play important functions in an organization's talent management strategy and are expected to align group and individual goals and performance with the organization's overall vision and goals.
Organizations face intense challenges to obtain leadership buy-in, measure training effectiveness, and demonstrate adequacy through preparing measurements on training. CLDP®-certified L&D Managers are equipped with extensive experience combined with advanced learning and a network of professionals sharing effective best practices to address these challenges.
OBJECTIVES
The high-level learning objectives of the Certified Learning and Development Professional® course include:
Learn the Competency Iceberg Model for pinpointing skills and traits.
Develop competency maps and behaviourally anchored rating systems to planned structured and scientific training in an organization.
Obtain a thorough understanding of the utilization of BARS for valid competency assessment.
Conduct competency-based TNA for accurate training scheduling.
Understand how HR Analytics can be used to validate competencies.
Understanding of KASH and ASK models of competency.
Competency gaps are identified using the 360-degree Feedback Technique and competency assessment centers and understand its effectiveness.
Use Correlation Studies to evaluate training.
Create an Individual Development Plan and Developmental Calendar.
Understand Training ROI and create L&D metrics and get management to buy in on training.
TARGET AUDIENCE
L&D Officers and Managers
Functional Consultants
Regional Training Managers
Senior Trainers
OD Managers
Lead Trainer & Coach
L&D Principals
L&D Heads
Training Specialists
Freelancers
E-learning Specialists
Operations Managers
DGM-Training & Development
CEO/COO/CFO/CLO
Corporate Trainers
Professionals with strong interest in L&D
Professionals targetting a role in L&D
GETTING CERTIFIED
1. Register in any scheduled 2-day CLDP® Intensive Learning and Certification Program.
2.  Attend and participate in the live and interactive Program ensuring completion of all modules and case studies.
3. Take the online certification exam at the end of the 2nd day. 
The certification exam is a multiple-choice questionnaire of 40 marks.
At least 24 marks have to be correct to clear the exam.
If the candidate fails, a retake is available after one day at no cost.
4. Obtain your verifiable CLDP® certification with lifetime validity
PRE-REQUISITES
There is no such recommended experience or prior training required for getting attending this program and securing this certification.
PROGRAM OVERVIEW
Module 1: Training, Development and Education
• Introduction
• Objectives of Training
• Areas of Training
• Training Drawbacks
• Benefits of Training
• Need for Training
• Types of Training
• Training Risks
• Difference between training, education & development
• Role of T&D in HRD

Module 2: Training Skills and Techniques
• Teaching Skills
• Presentation Skills
• Preparing to Teach
• Develop and Deliver Concepts
• Methods in Training
• Training Delivery Methods
• Criteria For Method Selection
• Effective Learning and Teaching Methods

Module 3: Learning and Learning Styles
• What is learning?
• Learning Styles
• The Three Representational Modes (TRiM)
• Self, Met cognition, Cognition, Knowledge (SMCK)
• Other Supporting Theories
• Adult Learning
• Principles of Training
• Student Types

Module 4: Training Policy
• Policy for Training
• Good Policy Characteristics
• Classification of Policies
• Formulation of Policies
• Factors Influencing Policy Determination
• HR Training and Business Management

Module 5: Training Need Assessment
• Training Content for Different Categories of Employees
• Steps for Needs Assessment

Module 6: Designing Training Plan
• Learning Objectives
• Requirements of Learners
• Steps for T&D Plans
• Planning Implementation of Training Plan
• Training Room Design
• The Training Procedure

Module 7: T&D Programs
• Introduction
• Training at Professional Institutions
• Workers Training Programme
• Supervisory Training & Development Programme
• Training Aids
• Training Media

Module 8: Competency-Based Training
• Competencies
• Competency Profiling
• Competency-Based HRM Models
Module 9: New Employee Training
• New Hire Training
• Purpose of Orientation
• Goals of Orientation Programs
• Types of Orientation
• The Orientation 'Toolkit'
• On The Job Training

Module 10: Management Development
• Management Development Introduction
• Requisites for Successful Management Development Program
• Management Development Techniques

Module 11: Mentoring and Coaching
• Coaching Employees
• Activity-Mentoring Training
• Workplace Mentoring

Module 12: Computer Based Training
• Computer-Aided Instruction
• Computer-based Training
• CBT Usage
• Decision Process for CBT Viability
• New Capabilities
• Web-Based Training
• FLEX

Module 13. Evaluation of Training
• Concept
• Need for Evaluation
• Principles of Evaluation
• Evaluation Design
• Measuring Training Effectiveness/Impact
• Evaluation Plan
• Evaluation Types and Process
• Warr's Framework of Evaluation
• Kirkpatrick's Four Levels of Evaluation
• Feedback and Assessment
• Evaluating Training-staff Performance
• ROI (Return on Investment) in Training
• Cost Effectiveness
• Justification on Investment
• Evaluation of Management Training
• General Observations
Module 14: Effective Training and Development
• Effective T & D
• Assessing Training Effectiveness
• High Yield Training Checklist
• Training for Performance

Module 15: Train the Trainer
• Training & Development Specialist
• Role of T&D Specialist
• Skills of An Effective Trainer

Module 16: Training for Diversity
• Introduction
• Attitudes
• Diversity Strategies
• Best Practices
L&D Case Studies
---
Become an Internationally-Certified Professional. Become a CLDP®.